Jeremy Borrelli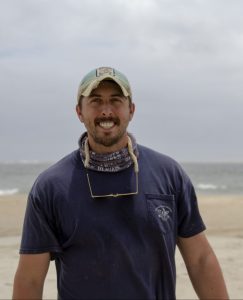 Maritime Research Associate
M.A., East Carolina University
Office: Eller House 104
Email: borrellij16@ecu.edu
Phone: 252-328-1965

Jeremy Borrelli is the Staff Archaeologist for the Program in Maritime Studies. He has experience in terrestrial and maritime archaeology, maritime history and material culture analysis. Over the past eight years Jeremy has been involved with archaeological projects in North Carolina, New York's Hudson Valley, the Great Lakes, Africa and the Caribbean. Before joining ECU, he worked as a maritime archaeologist for the Queen Anne's Revenge Shipwreck Project at the QAR Conservation Laboratory and NC Underwater Archaeology Branch. His research interests include 18th and 19th century maritime history, the archaeology of ports, harbors, and landing sites, digital and 3D documentation methods, maritime landscape studies and public archaeology.
---
Selected Publications:
Borrelli, J., J. Raupp, and T. McLellan. 2021 A Futile Endeavor: The Internal Improvements Movement and an Antebellum River Lock in Greenville, North Carolina. North Carolina Historical Review 98(3):283-308.
Borrelli, J. 2020 "Who Pays for That?" The Steamship Twilight and the Tribulations of Post-Civil War Southern Enterprise. Tributaries 18:8-21.
Borrelli, J. 2020 An Initial Assessment of Lead Artefacts Used for Hull Repair and Maintenance on North Carolina Shipwreck 31CR314, Queen Anne's Revenge (1718). International Journal of Nautical Archaeology 49(2):357-370. https://doi.org/10.1111/1095-9270.12418
Borrelli, J. and L. Harris. 2016 Bricks as Ballast: An Archaeological Investigation of a Shipwreck Site in Cahuita National Park, Costa Rica. In 2016 ACUA Proceedings, Paul Johnston, editor, pp. 8-16. Advisory Council on Underwater Archaeology, Society for Historical Archaeology, Washington, DC.