Helen M. Dixon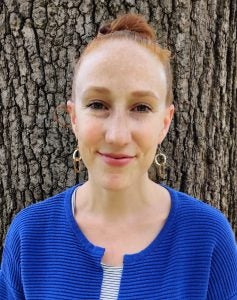 Assistant Professor
Ph.D., University of Michigan
Office: Brewster A-308
Email: dixonhe19@ecu.edu
Phone: 252-328-6094
 Fall 2022 Office Hours:  Mondays 11-12pm, Tuesdays 1-3pm, and Wednesdays 10-12pm.
Helen Dixon is an interdisciplinary scholar of the ancient Mediterranean world specializing in Phoenician history and culture in the first millennium BCE. Dixon holds a B.A. in Religious Studies from McGill University, and an M.A. and Ph.D. in Near Eastern Studies from the University of Michigan, which she completed in 2013. Subsequently, she held a two-year teaching postdoc in the History Department at North Carolina State University and a two-year research postdoc in the Academy of Finland Centre of Excellence in Research in "Changes in Sacred Texts and Traditions" at the University of Helsinki. From 2017-2019, she served as Assistant Professor of Religion at Wofford College in Spartanburg, South Carolina. Before leaving Finland for her position at Wofford, she co-authored a national grant funding an eight-year Centre of Excellence in "Ancient Near Eastern Empires" at the University of Helsinki, where she continues as an external collaborator. Her research has evolved from archaeological excavation, museum study, and archive work in Israel, the West Bank, Jordan, Cyprus, Lebanon, Syria, Turkey, and Greece, and focuses on how Phoenicians and their neighbors shaped and negotiated their social identities in both life and death. She maintains secondary publishing interests in both digital humanities applications to the study and teaching of the ancient world, and the increasingly urgent ethical challenges of the international antiquities trade. Dixon offers courses at both the graduate and undergraduate levels in Ancient Mediterranean History and Museum Studies.
---
Selected Publications:
Articles:
"Late First Millennium BCE Levantine Dog Burials as an Extension of Human Mortuary Behavior," Bulletin of the American Schools of Oriental Research Issue 379 (May 2018): 19-41.
"'Blue from Babylon': Notes from the Curatorial Trenches," [publication of a seal with Aramaic inscription from the Kelsey Museum at the University of Michigan; second author with Margaret Cool Root]. In The Adventure of the Illustrious Scholar: Papers Presented to Oscar White Muscarella, edited by E. Simpson. Leiden: E.J. Brill, 2018.
"Researching Cultural Objects and Manuscripts in a Small Country: The Finnish Experience of Raising Awareness of Art Crime," [third author with Suzie Thomas, Rick Bonnie, and Visa Immonen] Arts 7: Special issue on "Advances in Art Crime Research" (http://www.mdpi.com/journal/arts/special_issues/art_crime; 2018).
"Innovations in Near Eastern Studies Pedagogy: Using 3D Printers with Ancient Artifacts," invited piece for the Committee for Undergraduate Middle East Studies section of Issues in Middle East Studies (April 2018): 31-33.
"What is Funerary Archaeology?" and "How do Artefacts End Up in Museums?" In The Five-Minute Archaeologist, edited by Cynthia Shafer-Elliott. Equinox Press, 2016.
"Achaemenid," "Arsacid," "Cyrus," "Human Sacrifice," "Persepolis," "Persia," and "Sassanian." In The Routledge Encyclopedia of Ancient Mediterranean Religions, edited by E. Orlin, L. S. Fried, J. Wright Knust, M. L. Satlow, and M. E. Pregill. London: Routledge, 2015.
"Writing Persepolis in Judah: Achaemenid Kingship in Chronicles." In Images and Prophecy in the Ancient Eastern Mediterranean, edited by Martti Nissinen and Charles Carter. Göttingen: Vandenhoeck & Ruprecht, 2009.
---
Courses Offered:
HIST 1030: World Civilizations to 1500
HIST 3340: The Ancient Middle East from Prehistory to Muhammed
HIST 3405: History of Ancient Greece to 146 BC
HIST 3993: Approaches to Historical Objects
HIST 5340: The Ancient Near East
HIST 5920/21: Techniques of Museum and Historic Site Development
HIST 5930/31: Field and Laboratory Studies in Museum and Historic Site Development