Gerald J. Prokopowicz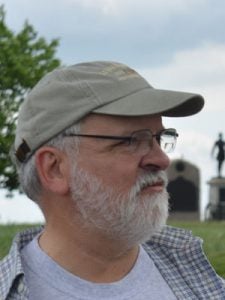 Professor
Ph.D., Harvard University
Office: Brewster A-320
Email: prokopowiczg@ecu.edu
Phone: 252-328-1027

Spring 2022 Office Hours: History 1051, History 3122 & History 3225: By appointment

Gerald J. Prokopowicz specializes in Public History and the Civil War era. He received his undergraduate and law degrees from the University of Michigan, and practiced law for several years in Chicago. He received his Ph.D. from Harvard University, and served for nine years as the Lincoln Scholar at the Lincoln Museum in Fort Wayne, Indiana, where he co-wrote the award winning permanent exhibit "Abraham Lincoln and the American Experiment," and edited the quarterly bulletin Lincoln Lore.
As a professor of public history, Dr. Prokopowicz is dedicated to training students to practice history outside of academia, and to removing the artificial barriers that divide academic historians from public historians and from the public itself. He is a member of the advisory boards of the Lincoln Studies Center and the Lincoln Forum.  He served as chair of the Department of History from 2007 to 2015. He has hosted the podcast "Civil War Talk Radio" since 2004, and his current research interests include public perceptions of Abraham Lincoln and Civil War military tactics.
---
Selected Publications:
Did Lincoln Own Slaves? and Other Frequently Asked Questions About Abraham Lincoln. New York: Pantheon Books, 2008.
All For The Regiment: The Army of the Ohio, 1861-62. Chapel Hill: University of North Carolina Press, 2001.
"Last Chance for a Short War: The Chattanooga Campaign of 1862," in Jones and Sword, eds., Gateway to the Confederacy (Louisiana State University Press, 2014).
"The Fatal Transition: From Lincoln to Johnson," in Horrocks, Holzer and Williams, eds., The Living Lincoln (Southern Illinois University Press, 2011).
"Our Hearts Were Touched With Fire: The Men Who Fought the War," in Sheehan-Dean, ed., Struggle for a Vast Future: The American Civil War (Oxford: Osprey Publishing Ltd., 2006).
"Word of Honor: Abraham Lincoln and the Parole System in the Civil War," in Hubbard, ed. Lincoln Reshapes the Presidency (Macon, Ga.: Mercer University Press, 2003).
"Military Fantasies," in Boritt, ed., The Lincoln Enigma (New York: Oxford University Press, 2002).
Website
http://www.voiceamerica.com/show/2205/civil-war-talk-radio
---
Courses Offered:
HIST 1050: American History to 1877
HIST 1051: United States History since 1877
HIST 3121: American Military History to 1898
HIST 3225: Sectionalism and Civil War: US History 1840-1877
HIST 3010: Constitutional History of the United States to 1888
HIST 3900: Introduction to Public History
HIST 3993: Approaches to Historical Objects
HIST 5930/5931: Field and Laboratory Studies in Museum and Historic Site Development
HIST 6035: Civil War
HIST 6910: Seminar in American History