Larry E. Tise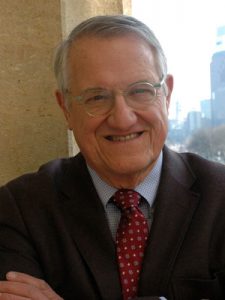 Adjunct Professor
Ph.D., University of North Carolina at Chapel Hill
Office: Brewster A-312
Email: tisel@ecu.edu
Phone: 252-328-1026

From 2000 to 2015, Larry E. Tise served East Carolina University as Wilbur & Orville Wright Distinguished Professor with a broad mandate to teach graduate history courses (many of his own design) and to lead the University's Thomas Harriot College of Arts and Sciences in researches and commemorations relating to the Wright brothers, early explorations of the Carolina coast, and other topics in North Carolina history.  He has also organized research conferences both in North Carolina and Europe on early flight, the lives of Walter Raleigh and Thomas Harriot, North Carolina Indian history, and the development of a new narrative for North Carolina history.  Tise also maintains current research websites through the university including his research on early exploration texts, the Wright brothers, and Tuscarora Indian research.
As a scholar, Tise has ranged widely in American and world history with a focus on American history from the American Revolution to the Civil War, the 16th century world of explorations, in history administration (archives, museums, historic sites, historic preservation, and publications), and in the history and administration of awards, honors, and prizes worldwide. His A.B. degree is from Duke University from which he also holds a Master of Divinity degree.
Prior to his association with East Carolina University, Tise was Director of the North Carolina Division of Archives and History, Raleigh, N.C., 1974-1981; Executive Director of the Pennsylvania Historical and Museum Commission, Harrisburg, Pa., 1981-1987; Executive Director, American Association for State and Local History, Nashville, Tenn., 1987-1989; and Executive Director of the Benjamin Franklin National Memorial, Philadelphia, Pa. 1989-1997. He also served as State Historic Preservation Officer in both North Carolina and Pennsylvania.
Tise was a founder and second president of the National Council on Public History; a founder and third president of the National Conference of State Historic Preservation Officers; and an early president of the National Association of State Archives and Records Administrators (now the National Association of Government Archives and Records Administrators). He was the founder and first president of the International Congress of Distinguished Awards of which he is still president (1992-pres.).
---
Research Websites:
Editor:  WorldAloft.org  The Wright Brothers in North Carolina
Editor:  Neyuheruke.org  Tuscarora History and Homeland  in North Carolina
Editor:  RoanokeColonies.org  Sir Walter Raleigh's Explorations of the Carolina Coast
---
Selected Publications:
Southern Experience of the American Revolution (1978).  William R. Davie Award.
Writing North Carolina History (1979)
Proslavery: A History of the Defense of Slavery, 1700-1840 (1987).  Herbert L. Feis Award of the American Historical Association.
The American Counterrevolution: A Retreat from Liberty (1998)
Benjamin Franklin and Women (2001)
Hidden Images in the Wright Brothers Photographs: Kitty Hawk 1900-1911 (2005; reprints 2011, 2019)
Conquering the Sky: Secret Flights of the Wright Brothers at Kitty Hawk (2009)
New Voyages to Carolina: Reinterpreting North Carolina History (2017).  North Caroliniana Book Award for 2018.
Circa 1903: North Carolina's Outer Banks at the Dawn of Flight (2019)